Dynamic search engine
In today's fast-paced world, people want to quickly find the information they need, and event attendees are no exception. By incorporating a dynamic search engine into your event program, you can make it easier for your attendees to find the sessions and programs that interest them.
A dynamic search engine allows attendees to search for sessions and programs based on various criteria, such as keywords, dates, topics, and languages. This feature is especially useful for events with a large number of sessions or a diverse range of topics.
For example, imagine you are organizing a conference on digital marketing. Your conference has over 50 sessions, each focusing on a different aspect of digital marketing. By implementing a dynamic search engine, attendees can easily search for sessions based on keywords such as "SEO," "social media," or "email marketing." They can also filter sessions by the date they are scheduled, the language in which they are presented, or other custom search attributes that you define.
Not only does a dynamic search engine make it easier for attendees to find the sessions they are interested in, but it also enhances their overall experience at your event. Attendees will appreciate the convenience and efficiency of being able to quickly find the sessions they want to attend, without having to sift through a large program booklet or website.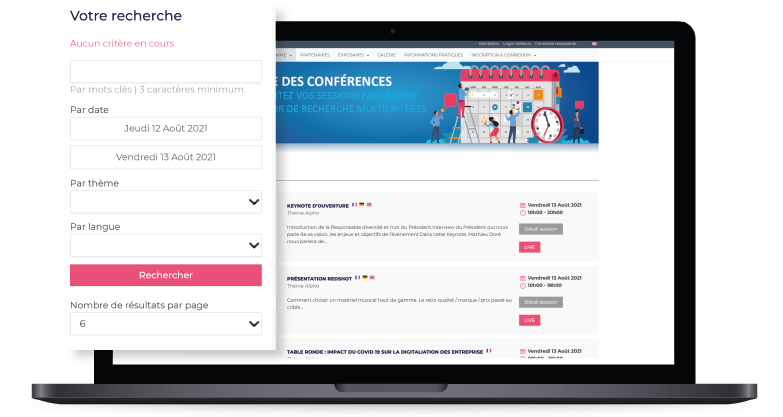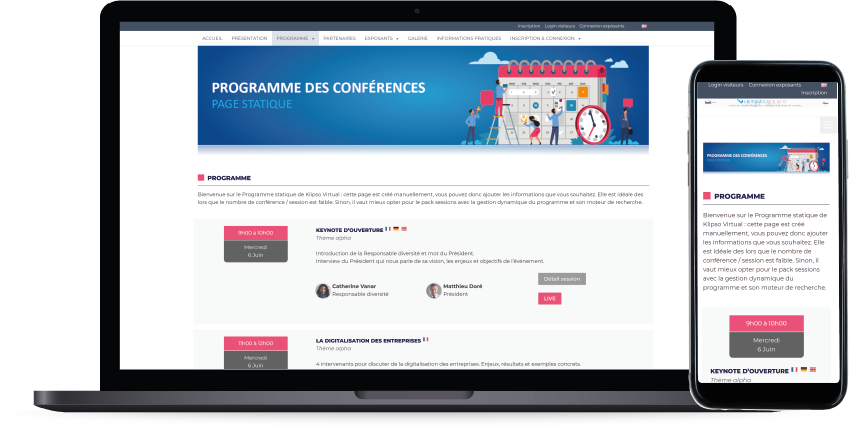 An ergonomic interface
If the program is freely accessible, it means that anyone who wants to use it can do so without any barriers or restrictions. This could be a great option for organizers who want to make their program widely available to as many people as possible. It could also be helpful for organizers who want to create buzz around their program and get more people interested in participating.
If the program is restricted to only registered participants, it means that users need to create an account or sign up in order to access the program. This could be a good option for organizers who want to control who has access to their program, perhaps because it contains sensitive information or because they want to limit the number of participants.
In either case, it's important that the navigation within the program is fluid and easy to use. Users should be able to move through the program and access its various features without feeling lost or confused. Additionally, the interface should be ergonomic, meaning that it's designed to be comfortable and efficient for users to interact with. This could involve things like easy-to-read fonts, intuitive navigation menus, and clear labeling of buttons and other interactive elements.
Finally, the program can be customizable in the organizer's brand colors. This would allow organizers to brand their program with their own colors and logos, which can help create a consistent and recognizable identity for their program. It could also make the program feel more cohesive and polished, which could help attract and retain users.
Live access
You can also offer participants access to live sessions. This means that they can participate in real-time with presenters and other attendees, ask questions, and engage in discussions.
Allow participants to add live sessions they are interested in to their favorites list. This way, they can easily keep track of the live sessions they plan to attend and quickly access them from the "My Program Selection" tab.
By allowing participants to easily access live sessions and build their own personalized program selection, you are providing them with a more engaging and interactive experience. Participants can plan their attendance in advance and make the most of the live sessions by adding them to their favorites and setting reminders.
Overall, this feature helps to streamline the program experience and make it easier for participants to engage with the content that is most relevant to them. It can also increase attendance and engagement in live sessions, which can be beneficial for both participants and presenters.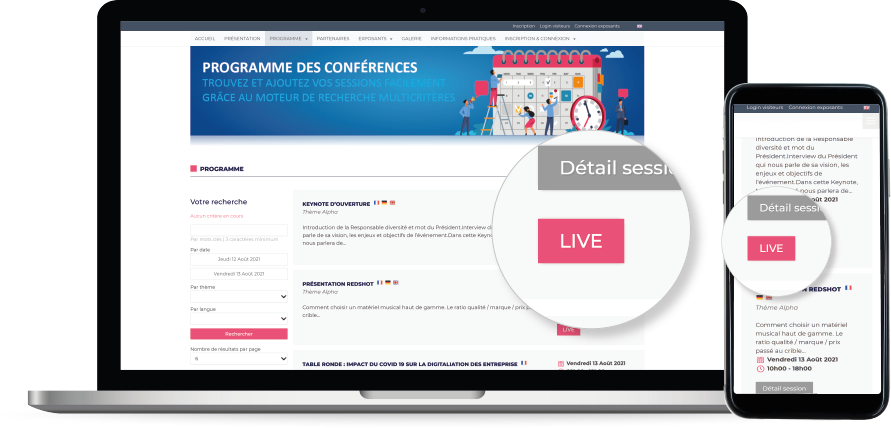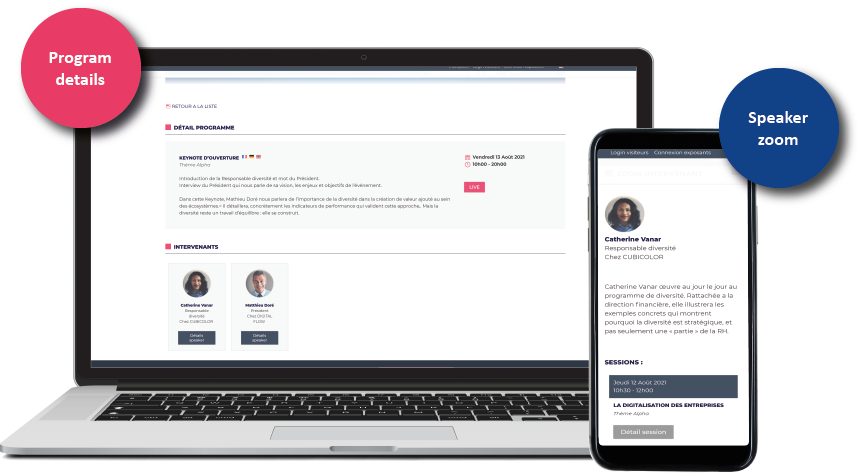 Program details
When organizing an event, it's essential to create a program that is well-structured and provides value to the attendees. One way to do this is by adding a description for each session and linking it to the speaker(s) who will be presenting.
By providing a description for each session, you can give attendees a better idea of what to expect and what they can gain from attending. This could include details about the topic being covered, the format of the session (such as a presentation, panel discussion, or interactive workshop), and any key takeaways that attendees can expect to learn.
Linking each session to the speaker(s) who will be presenting is also crucial. This allows attendees to learn more about the speakers and their expertise, which can help to build trust and credibility. You could include a brief bio for each speaker, outlining their background and experience, as well as links to their social media profiles or website.
To make it easy for participants to access each speaker's page, you could provide links to these pages within the session description. This can help to encourage attendees to learn more about the speakers and their work, and may even lead to new connections and opportunities for collaboration.
Program and Session Search Feature Glossary
Intuitive and flexible
Easy to use
Live access
Fully integrated to Klipso's ecosystem
GDPR and CCPA compliant​
Speaker details
Secured to the highest standard
Real-time insights​ and reports
Filters and search engine
Example of using program and session search
Example of using program and session search
Example of using program and session search